Regular price
$40.00 USD
Sale price
$38.00 USD
Unit price
per
Sale
Sold out
Going Through the Portals was painted by Pancho Pescador. Pancho was born in Santiago de Chile in 1972. Pancho is a self-taught visual artist, muralist, music lover, and visual activist. He combines these disciplines to stir things up and activate critical and imaginative thinking. Life brought him to Oakland, CA where he lives, creates, and shows his visual guerrillas. Pancho Pescador belongs to a collective of muralists and street art called Community Rejuvenation Project (CRP) based in Oakland."
1000Pcs

Super fun 1000-piece jigsaw puzzle for Adults
Irregular Cut Puzzle

Minimal puzzle dust
Velvet Soft Touch Linen/matte finish to reduce glare
Includes a Zipper bag to store the pieces
Includes a large poster and stand of the puzzle design
Completed puzzle size is 27" x 20" (686cm x 508cm)
Made with non-toxic materials, soy-based inks, and recyclable cardboard

Unified Pieces has curated a selection of high-quality, Frame-worthy jigsaw puzzles from artists and designers from all over the world. The size, pieces, and themes are carefully chosen to ensure an enjoyable puzzle-solving experience for beginners, as well as those who prefer to take their time. All puzzles are printed with a luxurious low gloss, soft touch matte finish that ensures ease of visibility and less strain on the eyes. Our thick (2.2mm), sturdy, ribbon-cut pieces deliver an excellent fit. Each of our jigsaw puzzles comes with a zipper bag to keep the pieces extra safe.
Materials

Velvet Soft TOuch Linen/matte finish to reduce glare.

Includes a Zipper bag to store the pieces

Made with non-toxic materials, soy-based inks, and recyclable cardboard
Share
View full details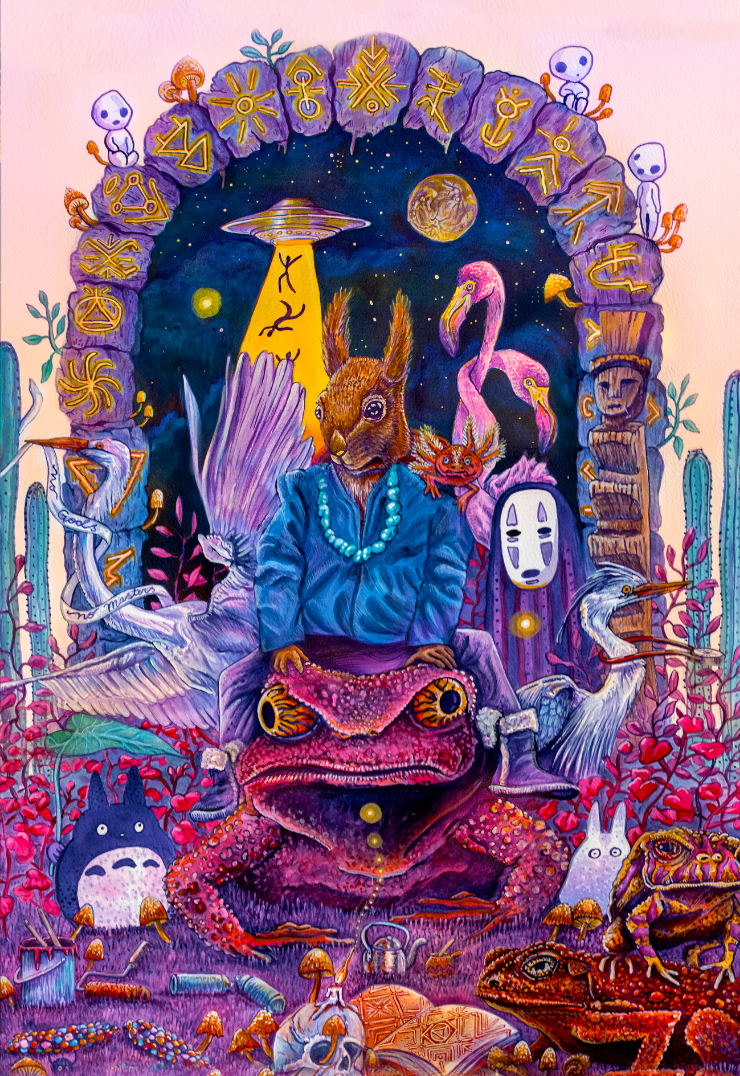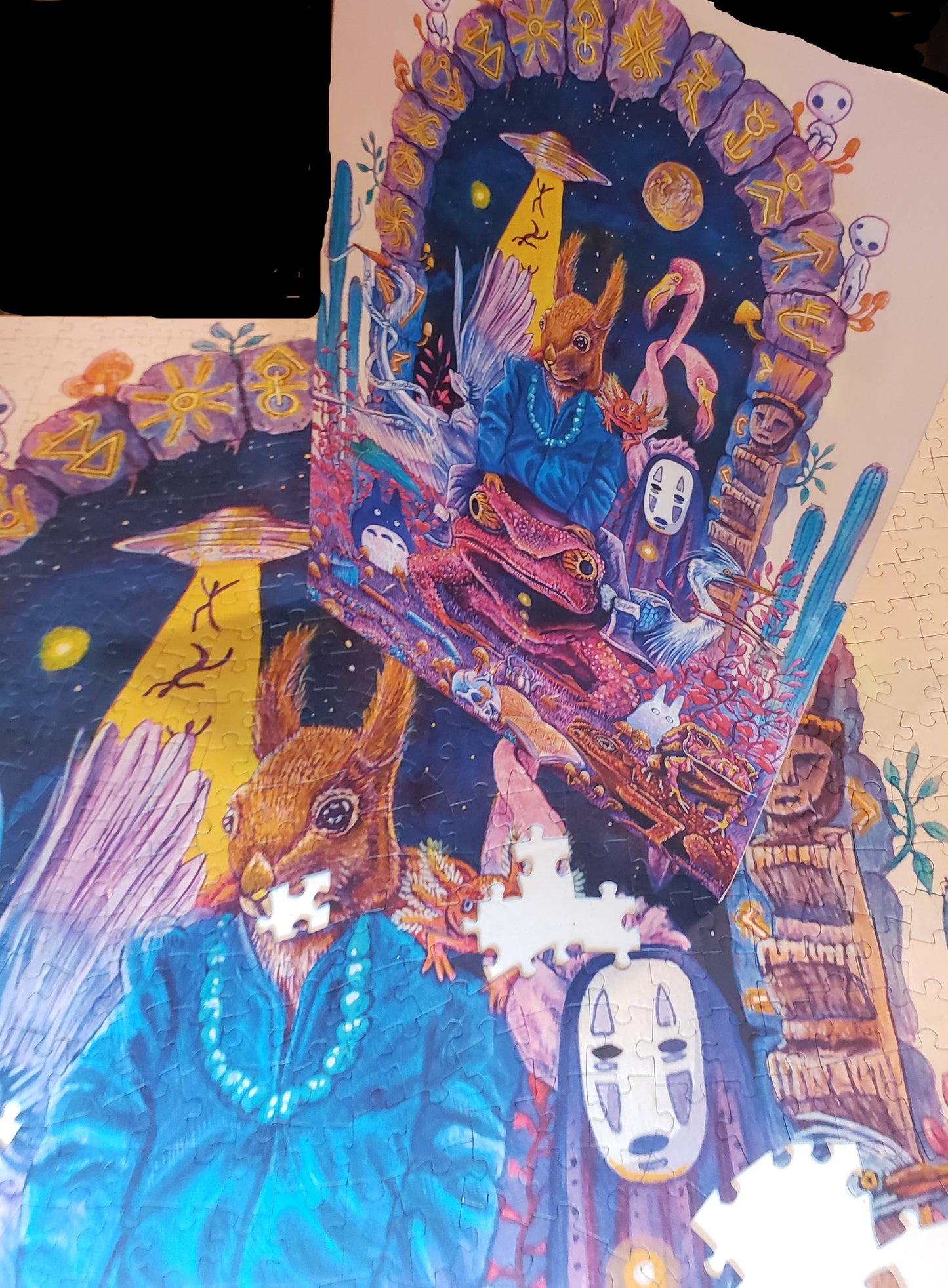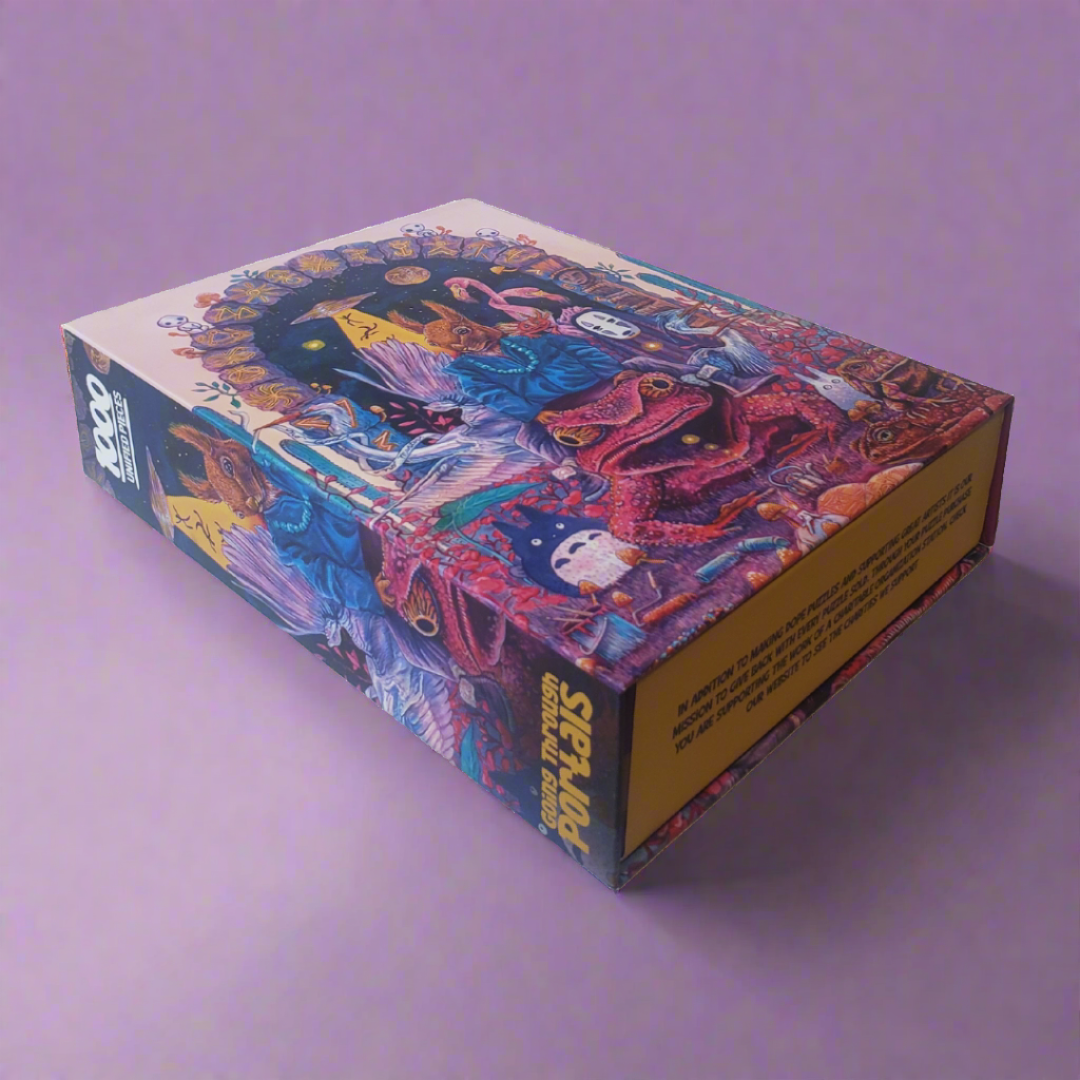 Sooooo Smooth ❤️
Going through portals: I love, love, love this puzzle! The pieces are so velvety smooth that you just want to touch them.. a lot. The artwork is fun and fantastic. Die cut is great - interesting, different and no false fits. The fit is loose…. but that's okay, you'll get to handle those silky smooth pieces even more. Go ahead touch them ;) This puzzle is an experience you will want to enjoy.
Great Puzzle
I absolutely loved this puzzle! The packaging, the piece quality, the overall puzzle experience was fantastic. This will not be my last Unified Pieces puzzle.
Going through the Portals
The puzzle is beautiful with my mom we love it can't wait to do it!!!😍😍😍
Just Perfect
Words can't express how much I loved this puzzle.
Everything is so well thought out. The packaging is fabulous. I love the print with a stand to consult when puzzling!
The pieces, perfect, silky smooth and well cut. No false fits here! The artwork is colourful and imaginative and makes a really fun design to piece together. A really amazing puzzling experience. Like WOW!
Let's gooo!
Packaging was amazing! Looking forward to assembling! Will be purchasing more! Awesome quality and great fun.