Regular price
$40.00 USD
Sale price
$38.00 USD
Unit price
per
Sale
Sold out
The Black Girl Magic Collection is a stunning series of 1000-piece jigsaw puzzles for adults featuring beautiful black women from all shades and backgrounds. Designed in collaboration with dynamic photographer Oladimeji Odunsi and designer/puzzler Gamaliel (@gadget_meezy), this puzzle collection is the perfect way to unwind and destress.
Our irregularly-shaped pieces are made from non-toxic, recyclable cardboard and printed with soy-based inks. The luxury matte finish reduces glare and strain on the eyes, making it easier to see and enjoy every piece. And with minimal puzzle dust and a linen finish, this puzzle is perfect for framing and displaying.
Measuring 27" x 20" (686cm x 508cm) when completed, each puzzle comes with a large poster and stand of the design, as well as a zipper bag to store the pieces securely. Our thick, sturdy, ribbon-cut pieces deliver an excellent fit for an enjoyable puzzle experience. 

Super fun 1000 piece jigsaw puzzle for Adults
Irregular pieces
Minimal puzzle dust
Linen/matte finish to reduce glare
Includes a Zipper bag to store the pieces
Includes large poster and stand of the puzzle design
Completed puzzle size is 27" x 20" (686cm x 508cm)
*Made with non-toxic materials, soy-based inks, and recyclable cardboard
As a black-owned company, Unified Pieces is dedicated to providing a fresh, nontech, meditative experience with our puzzles. We collaborate with talented artists and designers from the Bay Area and all over the world to create high-quality, frame-worthy puzzles that offer a unique challenge and aesthetic appeal.
Materials

Velvet Soft TOuch Linen/matte finish to reduce glare.

Includes a Zipper bag to store the pieces

Made with non-toxic materials, soy-based inks, and recyclable cardboard
Share
View full details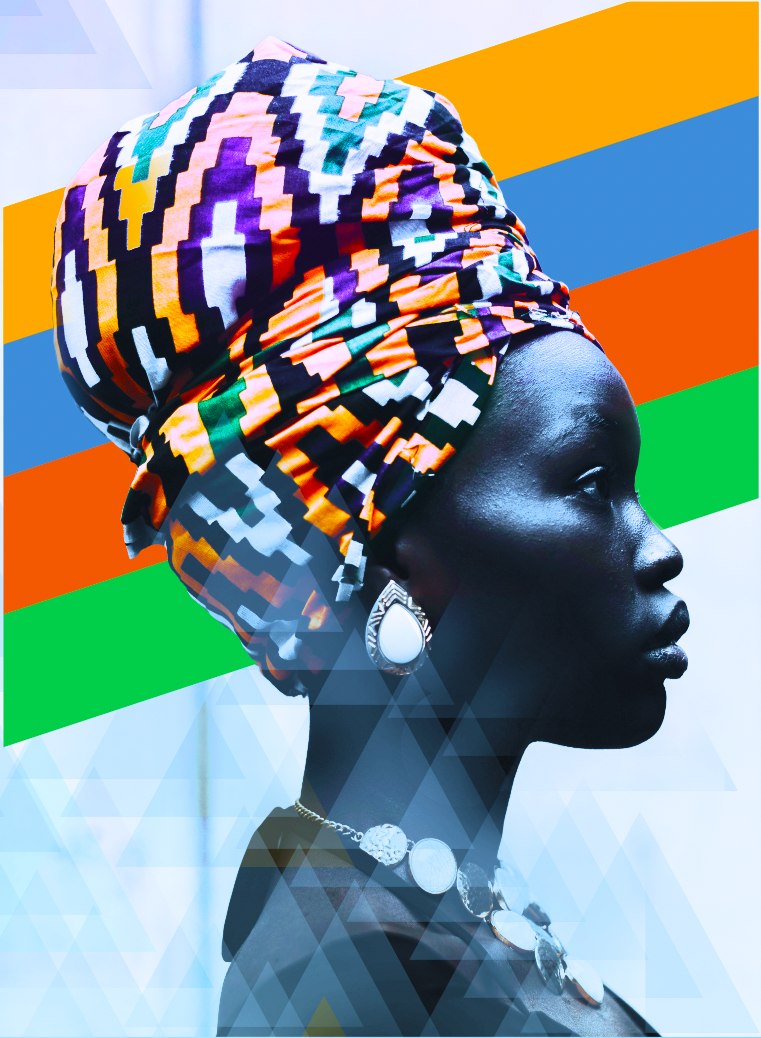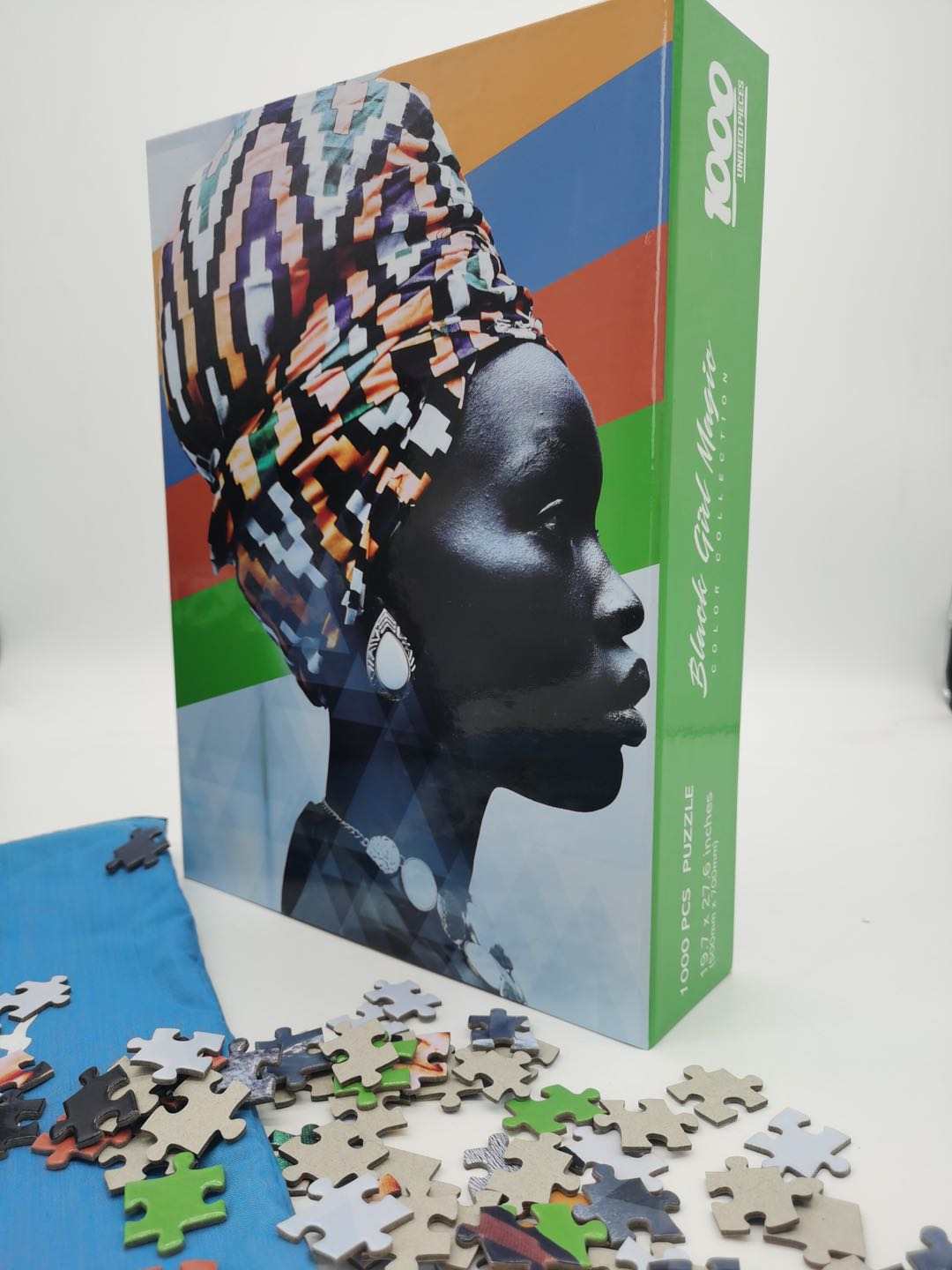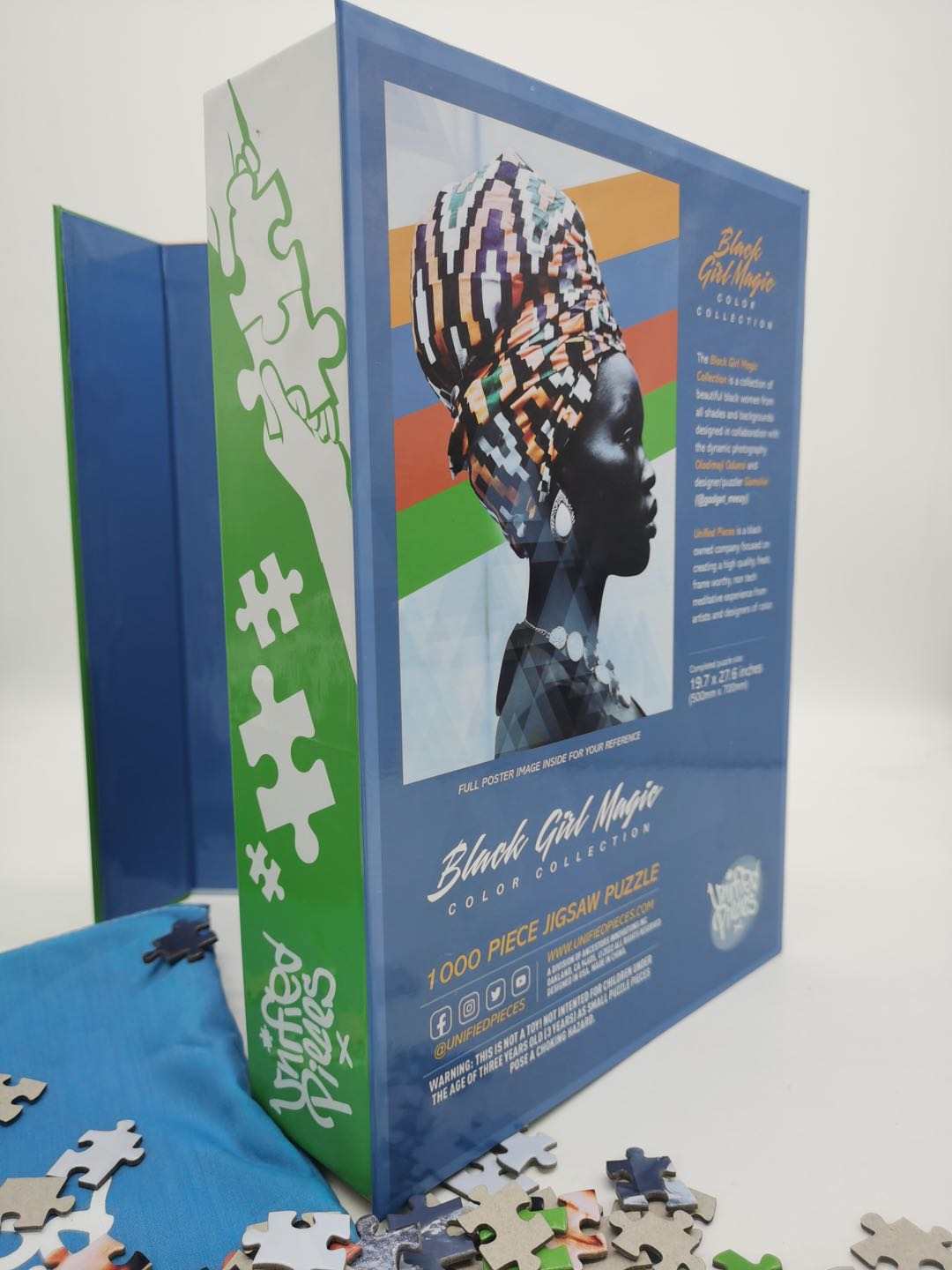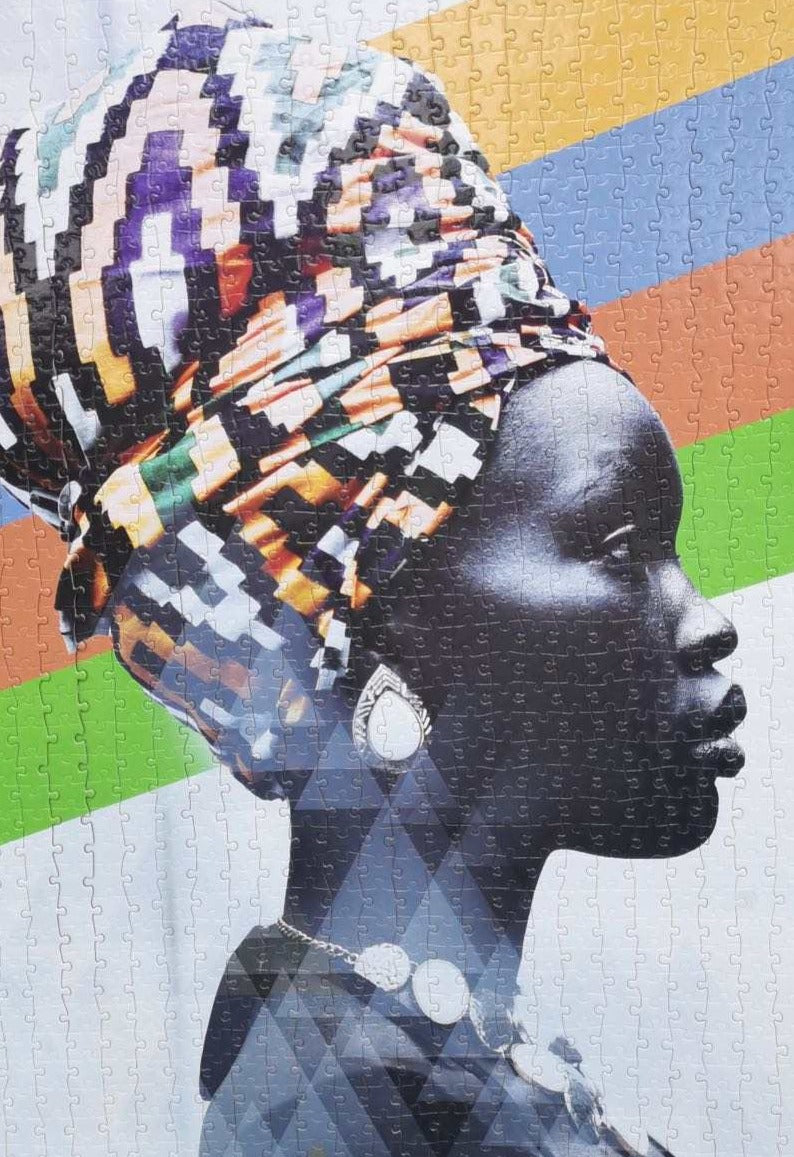 Puzzle Magic
Magic Girl is a fun puzzle. It's clean and the piece fit is mostly solid. The edges, completed first by this jigsaw lover, were a tiny bit wobbly from the middle sides to the whole top edge. So much so that I unassembled, finished from inside to out and then put the edges on. It turned out sturdy but having finished The Queen a few days ago and its impeccable fit, I was surprised Magic Girl didn't have as tight of a fit. Nevertheless, beautiful puzzle and love that I found this vendor!
High Quality Puzzle w/ Vibrant Colors
Everything about this puzzle is top tier. The image (BGM Vol 1) is beautiful, for starters, and the pieces don't feel flimsy at all. The carry/storage tote is great for those who prefer not to keep the puzzle box, however, the box design is nice and high-quality itself, so I will be storing it in the box. This is the perfect treat for a puzzle lover and I would definitely purchase it again.
BEST PUZZLES EVER
Wow…sums up my experience with this company. Everything was top tier from the quick shipping to the quality of the puzzle pieces. The packaging that the pieces came in was super cute and durable. Even the stickers and extras added into the package about the authors was an amazing touch. And the ART WORK is so beautiful and powerful!!! I can't wait to collect all of the puzzles.
Representation matters
I had fun doing the puzzle with my kids. This was the largest puzzle I have tackled with them thus far with my kids; we completed it over a few days. My youngest son loves puzzles, so it is great to see and have more puzzles that are diverse(i.e. afro-centric, African culture, etc.)